2015 Dux of College Olivia Keatch a Star!
Posted by Gleeson College on 25 February 2016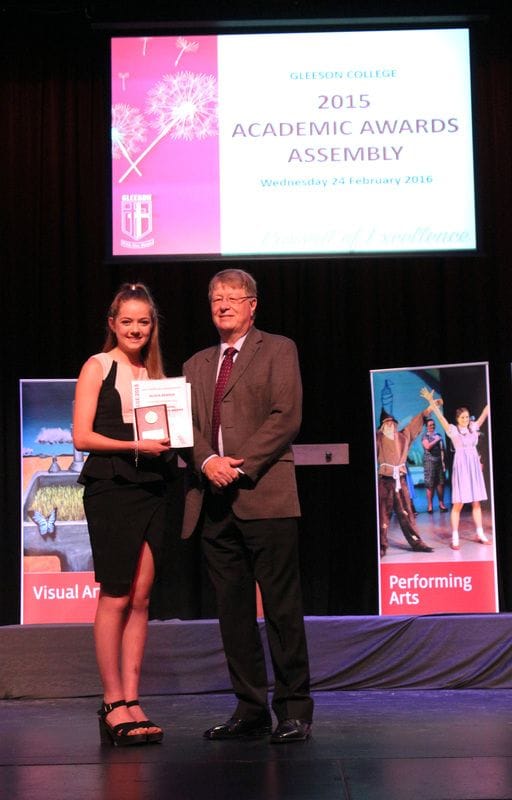 In line with 'Pursuit of Excellence' and 'Pride in Success', two of our Gleeson 10 core values, we witnessed the presentation of academic awards to our 2015 Year 12 Graduates on Wednesday 24 February. It was very special to be able to celebrate the efforts of those students who received Merits in individual subjects, an Australian Tertiary Admission Rank of 90 or more, along with those who were named Dux of Subject. The Dux of the College for 2015, Olivia Keatch, was presented with the Thomas Medal by Dr Vin Thomas, inaugural Principal of Gleeson College and our current Principal, Mr Andrew Baker. Olivia's acceptance speech was one of the best I have heard: reflective, sincere, thankful and motivational. Her speech is below:
"Dr Thomas, Mr Baker, Distinguished Guests, Staff, Students and Families of Gleeson College,
It is my absolute honour to be here today to accept the Dux of College award for 2015. I also congratulate all the other award recipients present today, and the rest of my cohort for their excellent Year 12 results. Everyone has done so well and should be extremely proud of their efforts. Year 12 was a very challenging year, however I was extremely blessed to be surrounding by dedicated teachers, supportive parents and great friends which made it so much easier. All my teachers from Year 8 to 11 really helped to prepare me for Year 12, and my
Year 12 teachers were extremely committed, supportive and encouraging. I would like to thank Miss Mahony and Miss Feleppa, for being such positive health captain mentors, Miss Imbrogno and Mrs Kerrigan for your continued support and my subject teachers; Mr Ryall, Mr Baker, Ms Napoli, Mr Corbo, Miss Feleppa and Mrs Morgante.
Thank you for all the time and effort you spent teaching, marking and improving my work, for the positivity and enthusiasm you brought to each class and for pushing me to achieve more than I thought I was capable of. I would like to thank my parents, for all things you had to sacrifice for my education. Whether it be helping me with homework, driving me to school, or allowing me opportunities such as the Japan trip and National Youth Science Forum. My results last year would not have been possible without both of you. Every single time things got tough you were there for me and I will be forever grateful.
One of the biggest challenges I faced through year 12 was stress, and while a little stress can motivate you to work towards your goals, if you are becoming overwhelmed I would suggest you consider some stress management techniques. Firstly keeping up to date with work will help to avoid stress, but emailing teachers for extra support, making to-do lists, taking time to relax all help to combat stress. For me- going to the gym and doing yoga really helped to improve my outlook on Year 12 and subsequently my academic results. I also have to thank my amazing friends, because at times when Year 12 was overwhelming, you were always there for support. We really banded together and helped each other which I am so proud of. For the current year 12 students, remember your friends will be a major support this year, so help each other through the tough times and be able to enjoy the many celebrations and fun times with them in the year ahead.
Many subjects will have a major exam at the end of the year, which can seem daunting but I suggest focussing more on your upcoming assignments and tests. While each assignment may only be worth 5-10% remember they all add up. If you work hard and honestly try your best at every assessment you not only gain the knowledge for your exams in smaller manageable blocks but you can achieve grades which allow you to enter your exams with a little less pressure. In saying this exams will come around soon enough and my advice is relatively simple. Treat your practise exam like real exams. This is the best chance to see your strengths, how you handle a 3 hour exam and what you need to improve on for the real thing. Take every practise exam, worksheet or booklet that your teacher gives you, and focus on understanding the course content rather than just remembering it. My other suggestion for all the students is to find what works for you. Not every teacher will teach in a way that suits your learning style, and you and your friends may all prepare for tests and exams in different ways. Give everything a go, and see what brings you the best results, especially if you're in Year 11. Use this year to find a successful method of study. I found teaching a concept to my parents, or writing colour coded mind maps to be really helpful, but I also know students who learned best watching videos, drawing a diagram or making up acronyms. If you know how you learn best, you can apply this in Year 12 and improve your academics. I would also like to point out that there are many other ways to succeed during Year 12 and high school in general, than just academically.
And while I recommend everyone try their best with school work you can also have other goals. If you are really passionate about sport, music, arts, leadership or your TAFE course follow what makes you happy and strive for excellence in those fields. That way you'll be more motivated and able to enjoy what you're doing.
Next week I continue my education, as I will begin studying a Bachelor of Biomedical Science at the University of Adelaide. I am really excited about this, and to have the opportunities after university to work in research laboratories all around the world. While I learnt a lot of science and mathematical content at school, what are more important for my future years are the life lessons I have learnt at Gleeson.
I am extremely grateful for every opportunity this school has offered me, and look back at my time here with such great memories. I give my best wishes to the Year 12 students of 2016; work hard and you will achieve some fantastic results. Thank you so much for your time and for listening. Thankyou."
I thank the students from the Class of 2015 and their families for coming back to Gleeson to accept our congratulations for their wonderful work. We wish them all the best for the future and certainly hope that Gleeson will remain a joyful memory for them and that they will maintain contact with us as they venture out into the world.
Mr J Corbo, Deputy Principal