Gleeson Careers Expo & Subject Information Evening 2015
Posted by Gleeson College on 4 August 2015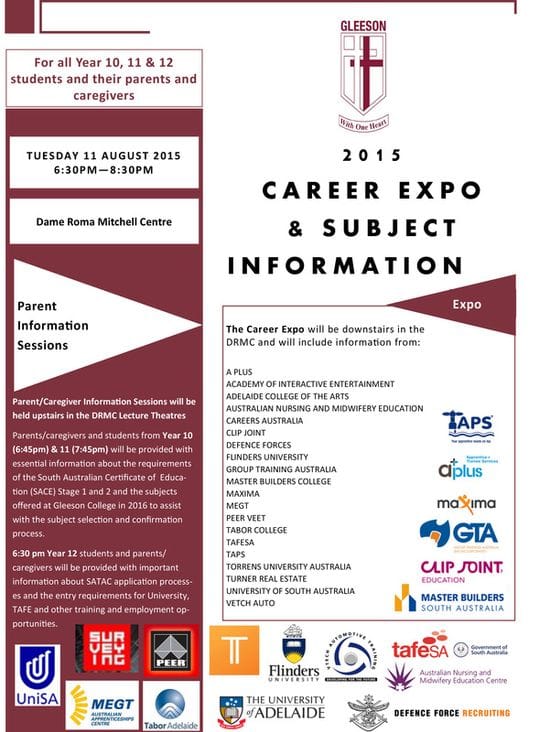 Students and their families in Senior year levels are invited to attend our annual Gleeson College Careers Expo and Subject Information Evening on Tuesday 11 August, 6.30 to 8.30pm. This is an important event in the career development of our Senior students and therefore we encourage all students in Years 10, 11 and 12 to attend.
The evening will provide an opportunity for students and families to receive the most up to date information available regarding course offerings at our three major universities - UniSA, University of Adelaide and Flinders University. Defence, trades, apprenticeships and vocational pathways will also be advertised by the registered training organisations we have invited. The flier above indicates the range of education and training organisations that will be represented on the night.
In addition to careers information, details about Stage 1 and Stage 2 of the South Australian Certificate of Education (SACE) will also be provided in two half hour SACE information sessions at 6.45 - 7.15pm for students in Year 10 and 7.45 - 8.15pm for students in Year 11. Information about the process of SATAC course selections will also be provided for Year 12 students and their families from 6.30 to 7.15pm. If you are the parent of a student in Years 10, 11 or 12 and have not received a letter with a reply slip about the evening, please contact the office.
The third part of the evening is a Senior subject showcase for all of the Key Learning Areas in Gleeson College. Students and parents will be able to talk to teachers about Senior learning pathways and subject selections for Stages 1 and 2, with dedicated course counselling meetings taking place on Thursday and Friday of Week 4.
We strongly recommend that all students in the Senior years attend the evening. In particular, all Year 10 students currently studying the compulsory Stage 1 subject, Personal Learning Plan, will find the careers expo component a valuable addition to their learning for this subject.