HEALTHY HEART DAY: #GC ILY DAY
Posted by Gleeson College on 3 July 2015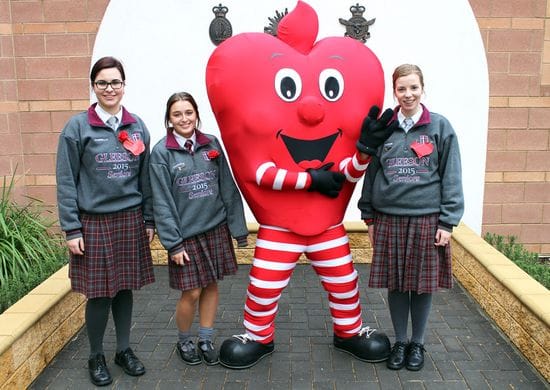 On Wednesday 24 June, the Senior Student Executive of Gleeson College implemented a new initiative called 'Healthy Heart Day'...a day described as 'not a secret, but a surprise!'
At the beginning of 2015, we the SRC Executive, talked about bringing all initiatives closer to the students and community of Gleeson College. We realised that there was only so much we could do to impact the broader community, but discovered that if we shifted our focus to initiatives which students were passionate about or had a connection to, then they would teach the rest of the students at school - naturally this would create a larger sustainable change.
We decided to create 'Healthy Heart Day' because we wanted to raise awareness about the prevalence of Heart Disease and the one-in-three chance that it will impact someone close to us in our lifetime. On a personal note, a close family friend suffered a heart attack and passed away - my motivation and passion to want to create change. We are beginning to work with The Heart Foundation and will be doing more with this charity later in the year.
The day was a really exciting and fun day filled with many activities before school, during homeroom, recess, pastoral care, lunch and afterschool. There was a quiz, taste testers of delicious healthy muffins and beetroot dip, multiple exercises to keep the heart rate up (including smoothie bikes) and a big hug by Happy Heart to leave the College by at the end of the day.
We as the Senior Executive, really put ourselves out of our comfort zone in planning this new initiative. We felt quite vulnerable in the morning, as we didn't know how the students would react to all of our activities. The best thing about the day was the wholehearted involvement of our Gleeson Community. The willingness of our students to get involved made me proud to be a part of this amazing community. I really am in awe of the amazing people I share this school with, and want to thank the majority that got involved and shared many smiles and laughs throughout the day.
On the day we filmed all of our different activities and made a short clip to show our community. We invite you to view it here:
More exciting news to share is that the video was viewed by all of the Heart Foundation and their National Media Advisors! We received amazing feedback as they loved the clip and are now uploading it to their Facebook and YouTube - which is really affirming for us at Gleeson College that we can make a difference.
This is only the beginning of our initiatives; we have so much more planned next term and are looking forward to sharing more with the community. We thank everyone who contributed on the day; we couldn't be more appreciative of the support we received.
Charlotte Selby-Fullgrabe,
Vice President 2015, on behalf of the Senior Student Executive